Gametes (NSF Plant Genome) 2002-2006
Plant Gamete Gene Expression
The Male Side
Plant sperm are plasma membrane-bound cells that are unusual in that they are enclosed within the cytoplasm of the vegetative cell of the pollen grain. The sperm are not motile, but are transported in the pollen tube cytoplasm via the pollen tube, which grows by tip extension through the female tissue. Upon arrival at the embryo sac, the pollen tube discharges its passengers and one sperm fertilizes the central cell to give rise to the endosperm, while the other fertilizes the egg cell to give rise to the zygote.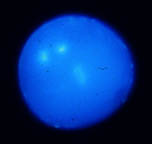 Maize pollen grain stained with DAPI. 
The vegetative cell nucleus stains diffusely,while the sperm nuclei stain brighter because their chromosomes are more highly condensed.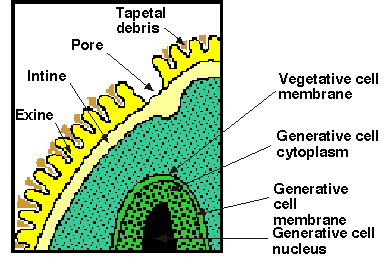 Cartoon showing generative cell within the vegetative cell.
Although a lot is known about gamete recognition in animals, molecules that mediate gamete (egg-sperm and central cell-sperm) recognition and signaling are unknown in plants. Indeed, basic information about gene expression in plant gametes is essentially lacking. The unique cell-within-a-cell arrangement of the generative cell or sperm cells requires that the gametes or their progenitor generative cell be physically separated from the surrounding vegetative cell cytoplasm before molecular analysis.
How We Started
Annie Chaboud (in Christian Dumas's group at Ecole Normale Superieure, Lyon, France) had devised a method to obtain highly pure maize sperm by fluorescence-activated cell sorting. We obtained maize sperm from them and constructed a cDNA library (2.3 million pfu) from 1 million FACS-purified sperm cells. Sequencing ~1200 cDNAs (Engel et al., Plant Journal, 2003) revealed that: 1) most are singletons, 2) ~30% are full-length, 3) ~7% encode secreted or plasma-membrane-encoded proteins, and 4) ~5% match Arabidopsis or rice genes predicted to encode hypothetical proteins (not present in any EST database). This library will help us identify the sperm surface proteins that recognize the egg and central cell, will improve annotations of sequenced genomes and will provide gamete-specific promoters for manipulation of gamete gene expression.
An expanded version of this project was funded by the NSF Plant Genome Program in Sept. 2002.
This material is based upon work supported by the National Science Foundation under Grant No. 0211742. Any opinions, findings, and conclusions or recommendations expressed in this material are those of the author(s) and do not necessarily reflect the views of the National Science Foundation.
Objectives for NSF Project:
1) Construct cDNA libraries from sperm (completed), from embryo sacs (completed) and from eggs (completed)
2) Sequence >5000 sperm cDNAs (completed), >10,000 embryo sac cDNAs (completed) and >5000 egg cDNAs (completed)
3) Determine expression patterns for ~200 diverse ESTs from each library, via RT-PCR and/or whole mount in situ hybridizations
4) Isolate gamete-specific promoters, generate GFP marker lines
5) Select candidates potentially involved in gamete interactions
6) Confirm localization predictions for selected proteins
7) Disrupt expression of selected surface proteins and assay for affects on fertility (in vivo- Arabidopsis; in vivo or via in vitro fertilization -maize)
You can read the whole grant:
Project Summary, Text of the grant, and References
Some of our results to date (8/22/05)
Whole mount in situ hybridization
Arabidopsis pollen with GFP-marked sperm. See Engel et al. for more sperm pictures, and some movies.
Sperm cDNA sequences are deposited in Genbank (5068 sequences as of 9/04/04) and can be searched for with the query "Zea mays sperm cell". This Table (5062 ESTs) shows a short summary of the functional category, annotation and best match in the protein database. Interactive database (5068 ESTs loaded; works best with Internet Explorer).
Conclusions from sperm library sequencing as of 9/04/04
The library contains a diverse range of sequences, and is particularly enriched in retrotransposon sequences (19% of total). 25% of the sequences do not have matches in current databases; these sequences likely correspond to 5' or 3' UTRs, or to as yet undescribed retroposons. It should be possible to assign an identity to some of these when additional maize genomic sequence is deposited in the databases. Many of the transcripts (12%) are predicted to encode proteins of unknown function. Most notably, 3% of the transcripts encode hypothetical proteins. Hypothetical proteins have been predicted by annotation programs but do not have mRNA support; these sperm ESTs now provide that support.
The Female Side 
Maize embryo sacs were isolated after enzymatic maceration and manual microdissection, as shown in this figure.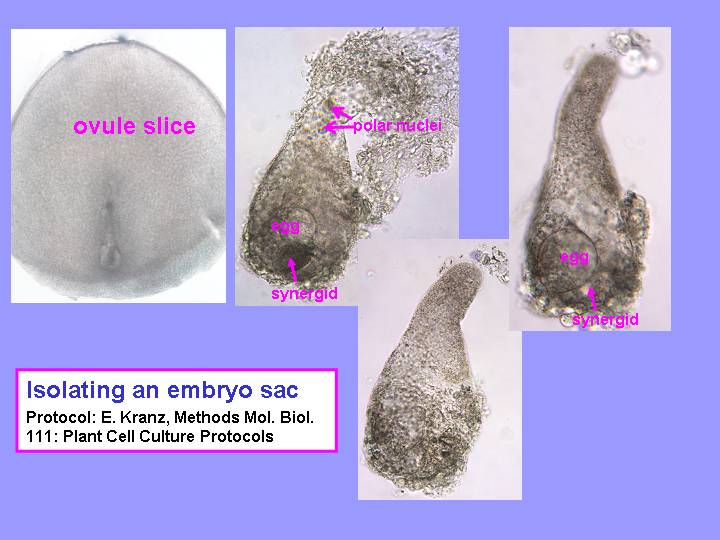 The egg cell, the central cell with two polar nuclei, and synergid cells could be released from the isolated embryo sacs, as shown here. Dynamic cytoplasmic streaming in all the cells was visible, indicating that the isolated embryo sacs were viable.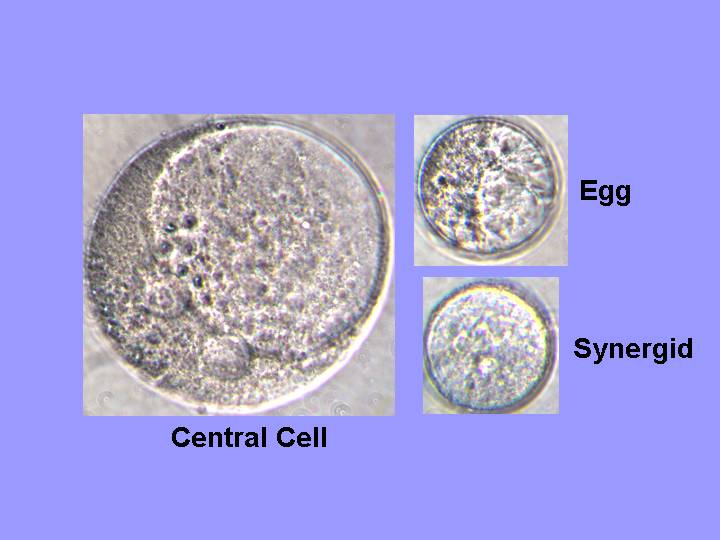 We made a cDNA library from total RNA extracted from 300 embryo sacs. So far we have ~225,000 pfu (from one ligation and packaging) and of these ~90% have inserts. Sequences of the first ~1000 ESTs showed that this library is useful for gene discovery - 23% of the transcripts had no significant matches in the database, 8% matched hypothetical Arabidopsis proteins, and 30% were singletons.
Embryo sac cDNA sequences (10631 sequences as of 8/11/06) were deposited in Genbank and can be searched for with the query "Zea maysembryo sac". This Table (7169 ESTs) shows a short summary of the functional category, annotation and best match in the databases.Interactive database (7169 ESTs loaded; works best with Internet Explorer).
Because the embryo sac has 7 cells, further work is needed to find ESTs that are expressed in specific cells of the embryo sac. We first screen for ESTs likely to be expressed exclusively in embryo sacs by RT-PCR, using mRNA from ovule slices with the embryo sac (E), ovule slices without the embryo sac (N), silks (S), pollen (S), leaves (L) and roots (R) So far we have identified 19 embryo sac-specific genes. We selected a subset of these genes for in situ hybridization to determine cell specificity. For example, one of these ESTs is expressed only in the synergids and central cell.
We made a library from total RNA extracted from 270 egg cells. We have ~325,000 pfu (from one ligation and packaging) and of these ~86% have inserts. We've found ESTs corresponding to known egg cell transcripts, such as ZmEA1 and ZmES1-4. Eggs are present in the embryo sac so we already had such ESTs from the embryo sac library. It is more interesting that we've found messages in the egg library that have not yet turned up in the embryo sac ESTs. About 5% of the egg ESTs correspond to defense-related transcripts.
Egg cDNA sequences (5159 sequences as of 05/11/06) were deposited in Genbank and can be searched for with the query "Zea mays egg cell". This Table shows a short summary of the functional category, annotation and best match in the databases. Interactive database (works best with Internet Explorer).